[Home] [About Us] [News Page] [Products] [How It Works] [Directions-Pack] [Soil App's] [Display Photos] [Technical Spec's] [FAQ'S] [MSDS] [Projects] [Resources] [Link Trading]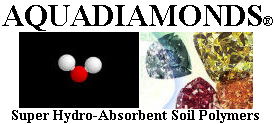 Place orders below or click here.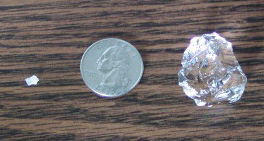 We, proudly accept PayPal!

(THESE PRICES REFLECT ORDERS SHIPPED ONLY TO THE CONTINENTAL U.S.A.)
CURRENTLY, DUE TO WATER DAMAGE WE CAN ONLY SHIP 55lBS. BOXES UNTIL FURTHER NOTICE
FOR SHIPPING COSTS ON ORDERS TO BE SHIPPED OUTSIDE THE CONTINENTAL U.S.A., (Please provide us with: the amount of product that you'd like to order, your complete address & zip code, phone numbers and all pertinent contact information!) shipping@aquadiamonds.com
IMPORTANT!!! - WE DO NOT SHIP OR SELL LESS THAN (5) PACKS ONLINE, OR BY MAIL ORDER!!! PACK PRICES INCLUDE S+H.
(1) PLEASE READ AND THEN CLICK ON THE APPROPRIATE, "ADD TO CART", BUTTON BELOW. (2) FILL IN THE NUMBER OF ITEMS THAT YOU ARE ORDERING IN THE "QTY" BOX, ON THE FAR LEFT, OF THE "Z-MAN ENTERPRISES PAYPAL CHECKOUT PAGE! YOUR SHIPPING CHARGES ARE CALCULATED IMMEDIATELY, NOT AT THE END OF CHECKOUT.
(On orders of 1 lbs. or more, be sure to choose between Aquadiamonds 35K4-(Large Crystal 2-4mm) or Aquadiamonds 35K2-(Medium Crystal 1-2mm)
| | |
| --- | --- |
| PRODUCT & PRICE | CLICK TO ORDER |
| | |
| | |
| | |
| | |
| | |
| | |
| | |
| | |
| | |
Large, wholesale orders are not a problem! If your needs require amounts between 3-55 lbs. Boxes, (165 Lbs.) to 500 metric tons, feel free to contact us at sales@aquadiamonds.com for a CIF (cost, insurance freight).
To order by check or money order, send to:
Mark Zehring - 640 Desire St., Unit B, New Orleans, LA 70117-6214 ( U.S.A.)
Be sure to include your Phone Number, Return Address, E-Mail Address and exactly what you are ordering.
(We have added the directions to this web site on how to make, hydrate and care for your own "Neck Coolers."
If you're interested in a link exchange with Aquadiamonds please visit our "Link Trading" page.
[Home] [About Us] [News Page] [Products] [How It Works] [Directions-Pack] [Soil App's] [Display Photos] [Technical Spec's] [FAQ'S] [MSDS] [Projects] [Resources] [Link Trading]