[Home] [About Us] [News] [Ordering] [How It Works] [Directions-Pack] [Soil App's] [Display Photos] [Technical Spec's] [FAQ'S] [MSDS] [Projects] [Resources] [Link Trading]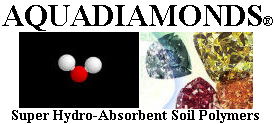 Product Descriptions:
GIANT SAVINGS ON MID-RANGE WEIGHTS!!!
(THESE PRICES REFLECT ORDERS SHIPPED ONLY TO THE CONTINENTAL U.S.A.)
FOR SHIPPING COSTS ON ORDERS TO BE SHIPPED OUTSIDE THE CONTINENTAL U.S.A., (Please provide us with: the amount of product that you'd like to order, your complete address & zip code, phone numbers and all pertinent contact information!) shipping@aquadiamonds.com
We offer choices, when ordering 1lbs. or more of Aquadiamonds Soil Polymers. Our default product, Aquadiamonds 35K4 is the largest grade crystal, (2-4mm) and it's primary use are for constructing "Neck Coolers", doing decorative projects and for cut flowers. It can be mixed with any growing medium for water management. Aquadiamonds 35K2 is a medium grade crystal, (1-2mm) and is recommended specifically for mixing with growing mediums. Use it for turf, trees, sod, flower beds, container gardens, vegetables and in agriculture.

1 Pack, makes over one gallon of soaked and drained soil polymer! (Min. order 5 packs) $20.00 (Shipping is FREE on all Pack orders!!!) ORDER

On orders of 1 lbs. or more, you may choose between Aquadiamonds 35K4 or 35K2 on the "Ordering" page.

1 LBS. makes approx. 32 gallons of soaked and drained Soil Polymer. $16.50 ORDER

2 LBS. Bag makes approx. 64 gallons of soaked and drained Soil Polymer.

$25.50

ORDER

5 LBS. Bag makes approx. 160 gallons of soaked and drained Soil Polymer.

$50.00

ORDER

10 LBS. (2 / 5 LBS. Bags) Makes approx. 320 gallons of soaked and drained Soil Polymer.

$82.60

ORDER

55LBS. Bag (Net Weight) Makes over 1500 Packs, and will sufficiently mix with, depending on type of soil, over of 11,000 sq. ft. of soil for, gardening, plant, flowers and vegetable growing applications!

$261.30

ORDER

Large, wholesale orders are not a problem! If your needs require amounts between 10 drums, (550 Lbs.) to 35 metric tons, feel free to contact us at: sales@aquadiamonds.com

If you're interested in a link exchange with Aquadiamonds please visit our "Link Trading" page.

[Home] [About Us] [News] [Ordering] [How It Works] [Directions-Pack] [Soil App's] [Display Photos] [Technical Spec's] [FAQ'S] [MSDS] [Projects] [Resources] [Link Trading]